Spreck Energy's Commercial Solutions
COMMERCIAL SOLAR WE SPECIALIZE IN
No investment has a greater ROI than Solar. Spreck Energy brings the power of the sun to your business, increasing your bottom line with an energy-stable future. Whether you're looking to cut utility costs, find new sources of revenue, or demonstrate your commitment to the environment, Spreck Energy can help you do all of the above. From family-owned operations to corporate headquarters, businesses are discovering the practical benefits of going solar. Let us show you how an investment in solar energy can maximize the potential of your commercial property and earn you a profitable return. Our customers often have multiple facilities across multiple locations, so creating a solar energy strategy that works across your enterprise is a key part of what we do.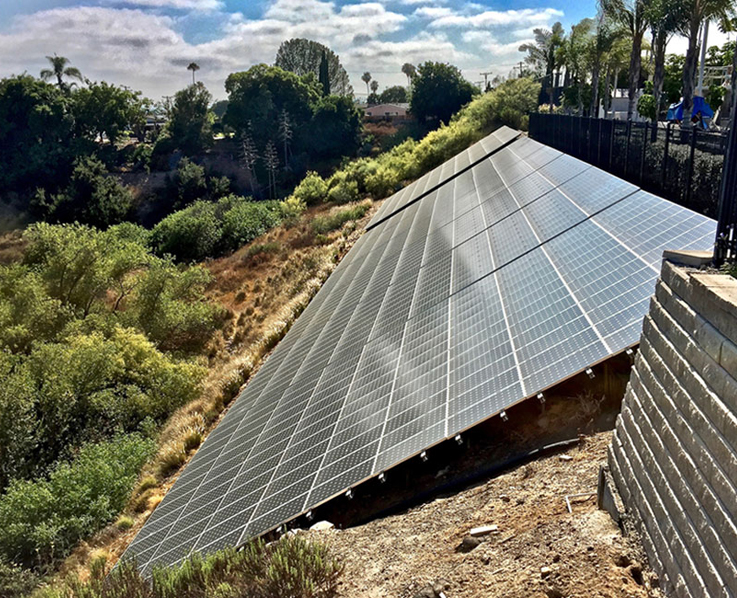 SOLAR SOLUTIONS BY SPRECK ENERGY
BENEFITS FOR YOUR BUSINESS
Lower your electricity costs by reducing your organization's electricity consumption from the grid.
Reduce your reliance on the grid by generating your own electricity on-site, regardless of the weather conditions.
Gain budget stability through predictable electricity costs and accurate forecasting of operating expenses.
Generate revenue by selling excess solar energy to the grid through programs like net metering.
Reduce demand costs by using stored solar energy when charges increase and can be up to half of your bill.
Benefit From Government Incentives: Federal, state, and local governments frequently offer attractive rebates and incentives to encourage organizations to invest in solar.
Marketing and Public Relations Benefits: Solar positions you as a steward of sustainability, and serves as a visible reminder of your commitment to the environment to customers, employees, vendors, and shareholders.
Spreck Energy
Our Solutions
Taking the
First Step
A first step is to gauge your annual energy usage, which will determine your system size. Using multiple technologies, the next step is to identify and measure the locations on your property that allow for maximum sunlight hours – on your roof, over your parking lots, on vacant land or any combination of the three. From there, our engineers create a design to meet the highest capacity of your energy needs.
working with
Financial Options
Spreck Energy leverages its extensive financial relationships with banks and other institutions to find the best type of commercial solar funding. Business owners have a variety of options to finance their systems. Spreck Energy's Commercial Finance Team specializes in creating custom options tailored to our client's financial needs. Transitioning to solar energy with energy storage will ultimately pay for itself in a short time and will provide years of clean, green energy.
What's next
Operations &
Maintenance Plans
Monitoring, Benchmarking, Reporting:
The first step in our O&M process is setting a baseline for the system. Then monitor it and compare the data to the manufacturer's guidelines to allow you to track key performance indicators for current and projected output.

Preventative Maintenance:
O&M programs follow a comprehensive checklist to maintain your system and prevent breakdowns ensuring that it delivers on your investment.
Corrective Action:
Quick response and accurate repairs are vital when there are system issues. Expert troubleshooting and thorough documentation allow clear determination of the remedy.
Recent Projects

Recent Projects

Recent Projects

Recent Projects

Recent Projects
reviews about spreck energy
from our clients + Partners
"I contacted 5-6 solar companies prior to hiring Spreck Energy. During they interview process, they were knowledgeable, professional and helpful in designing my perfect system. The best part was that they delivered! The job was done on time and without issue. My only regret was that I didn't engage with Spreck Energy earlier!"

5.0 Star Review

"We had a great experience with Jimmy, Jono, and Sam. They were very helpful answering all our questions before making a final decision on vendor and their designs. Quick to reply during the installation etc..and as you can see from the attached PG&E electricity usage graph, our system was turned on early September which is now saving us a lot of money."

5.0 Star Review

"Spreck Energy exceeded expectations!! After meeting with numerous companies, Spreck's expertise was obvious. The design, knowledge, and implementation of my system was professional, on time and seamless. The ROI on my system will be less than 3 years, and my only regret was not doing it sooner. Thank you very much to Spreck and your team!!"

5.0 Star Review

"Jimmy, Sam, & the Spreck team installed a new solar plus battery storage system on our house. Everyone was very responsive, friendly, and helpful to explain both how the system and the process worked. I'm also happy to have supported a local business, who happened to be very competitive on price on top of doing good work in a responsive way."

5.0 Star Review

"Jono and his team were great to work with. They kept the process simple, on time, and were always around to answer any questions. I would be quick to recommend them to a friend or colleague."

5.0 Star Review

"We had Jono and Spreck install solar on our new home purchase almost 2 years ago. We are getting great efficiency and enjoying the benefits of the suns energy. Very professional throughout the process - quote and design was prompt and with good follow through, install went smooth and quick, and we were all systems go immediately. Highly recommend going solar and working with Spreck."

5.0 Star Review
Frequently Asked Questions